Make a life-changing difference for a teen family.
Volunteer with Kindred Life Ministries. Because every life is precious.
Provide leadership and guidance for the ministry
Monthly plus occasional events
Care for teen mother's children on Life Education Group Nights
Weekly during the school year
Communicate ministry needs and information to your church.
Coordinate the regular needs for Life Education Meals, Life Education Childcare, Fundraising, and Special events.
Monthly during the school year
Invest in the lives of teen parents through monthly giving.
Share biblical financial principles with teen parents, help them set and reach goals.
Monthly during the school year
Help organize our biggest event of the year, the golf outing, auction, and dinner.
Monthly during the school year
Be a grandmother figure for one of the Life Education Group sites.
Life Education Group Speaker
Share your expertise, passion, or skill so teen parents acquire more life skills.
Once during the school year
Cook and deliver a meal to a life education group meeting.
Once or twice during the school year
Be a role model and personal support for a teen parent.
Weekly during the school year
Assist with mailings and office activities.
Pray for the teen parents, staff, and ministry.
Assist a teen parent with school work and help them achieve academically.
Weekly during the school year or as needed
Student Volunteer or Intern
Assist with direct services and other support roles. It is possible to earn internship credit from your academic institution.
Weekly during the school year
Volunteering is rewarding here.
Each fall, we kick off the ministry year with an all-volunteer workshop. Role-specific training is provided throughout the year.
Kindred Life Ministries is a community of Christians who serve together. You're a part of our community, and we support our volunteers just like we do our teen parents.
At the end of every ministry year, we gather to thank our volunteers and treat you to special volunteer appreciation event.
Volunteering changes lives!
"The moment I heard my son's heartbeat and saw him on the ultrasound, I fell in love. I knew I had to do everything in my power to ensure my child and I had a great and fulfilled life.
That's why joining Kindred Life wasn't a hard decision, it came naturally. I knew I wanted to be a good mom and that I needed help. The more I went, the more it became a safe and fun place for me and my child to thrive."
Carla
Volunteering changes lives!
"I serve at KL because, while I get to pour out to my mentee, I get poured into, too.
I love how the organization is one that cares well not only for the staff and mentees, but their volunteers, as well."
Annie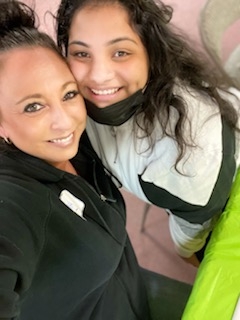 Volunteering changes lives!
"A volunteer visited and told Juana that her picture was on her refrigerator and that she prays for her every day. Juana later commented on it and said, "It was so cool, I knew that someone really cared for me."
Juana
Kindred Life Ministries… because every life is precious.