Each year, Kindred Life is blessed by hundreds of volunteers, serving in countless ways ranging from stuffing envelopes to childcare or one on one mentoring.  At our annual, Ministry Partner Appreciation night(s), we get to surprise one humble servant who has given sacrificially. We absolutely rely on the generous support of all our donors and volunteers to continue our mission to cultivate growth, build relationships, and meet needs of teen parents and their families. Thank you to EVERYONE who serves on behalf of our program.
Antioch Volunteer of The Year
This year's Program Volunteer of the Year is Anne McArtney. Anne began volunteering with us three years ago as a one on one teen mentor; first to Justine and now Alyssa. She jumped into mentoring with with her whole heart and has richly blessed us all! She went above and beyond for the young parents, having them over for lunch, introducing them to her family and regularly checking in. She has also has opened her home to the entire Antioch program and has hosted amazing tea parties.
She courageously and graciously shares the truth and grace of Jesus with each teen parent. This past month Anne and Alyssa  have begun attending an Alpha Bible study together.
When I think of Anne McArtney, I can't help but remember something she said that first year after a difficult Life Education Group meeting. "Sometimes people are rough on the outside, maybe they don't look like our preconceived ideas of what should be. But aren't we all a glorious mess in need of a Savior? Isn't loving them where they are at and speaking the truth what Jesus would do?"
Thank you Anne  for all you do for these young families and also for doing what Jesus would do!
Gurnee Volunteer of The Year
Julie Betori began volunteering as a teen parent mentor almost 10 years ago!  She has dedicated herself to coming every Thursday evening after working a full day to sit alongside a young mother.  Why such dedication? Julie knows tha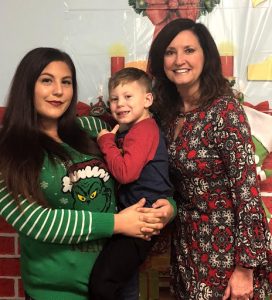 t she exists only because of the grace she has received from God, who gave her amazing talents and a huge heart. Our Gurnee program has been blessed that Julie arrived at our doorstep in which to share her generous spirit.
Julie's advice and support is straight-forward, practical, and never judgmental. A large portion of Michelle's (current teen mom) success and longevity in this program is a testament to Julie's dedication and compassion. Her example is steadfast and true. We thank you Julie!
Wheeling Volunteer of The Year
Joani Bellito, has been serving Kindred Life for a decade. Joani started back as the Program Director in our Wheeling office. Then she generously
served on our board of directors. Since her term recently ended, Joani is now coordinating a group at her home church to serve meals to our teen parents and their children on our Life Education Group nights.
Joani's heart of service is a Christ-like example of selflessness and consistency. She is a true gift to Kindred Life Ministries. Thank you on behalf of countless teen parents for your love, patience and dedication this past decade!